Sustainability
HOME>
Message from management
Message from management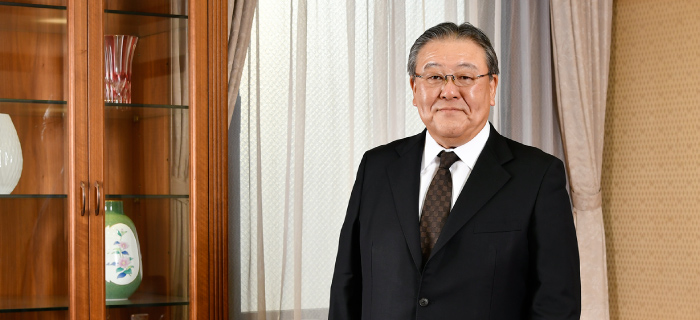 Realizing our corporate philosophy and fulfilling our mission to move closer toward a sustainable society
In 2017, we marked the 150th anniversary of our founding in 1867, the same year in which the Port of Kobe opened. At that time, when few ports in Japan were open to the outside world, we got our start as a cargo handling organization exclusively serving the agency that supervised export/import cargo—in short, the agency performing the equivalent of today's customs operations. Today, we've grown into an integrated logistics firm that handles operations ranging from warehouse storage to land transport, heavy cargo transport, and container terminal operations. We're active in major ports across Japan as the nation's leading harbor transport firm.
Japan is an island nation surrounded by water in every direction. Naturally enough, sea transport plays a key role in Japan's international trade, accounting for 99.7% of the nation's export/import cargo. As a company involved in a sector of such highly public nature, we seek to maintain the important social infrastructure of harbor transport. The stability and progress of our business activities contribute to the stability and progress of Japan's logistics infrastructure. For this reason, in addition to maintaining business stability through debt-free management, we've continued to invest in enhancing our facilities and cargo handling equipment and in tackling the challenge of providing new services. We will remain committed to this approach.
Our Corporate Philosophy states: By keeping up with the times and carefully responding to the demands of an ever-changing business environment, we will take on challenges one step ahead of today's needs while striving to enhance our corporate value and the stability of our management, with the ultimate goal of helping to build an affluent society. We believe our efforts to implement this philosophy will in itself promote the sustainability of both our Company and society. In putting this philosophy into practice, it is vital that we fulfill our responsibilities to diverse stakeholders and earn their understanding and cooperation. Kamigumi will maintain its course moving forward while stressing the fundamentals: providing rewarding work in which our employees can demonstrate their individual abilities in safety and with peace of mind; delivering services that satisfy our customers; building relations of trust with our business partners; maintaining timely and appropriate disclosure and stable dividends to shareholders; fulfilling our duties to regulators; building strong ties to local communities; and minimizing our environmental impact.
Yoshihiro Fukai, President & Representative Director