Services
HOME>
Case Study: Importing Foodstuffs and Cosmetics into China
CASE Study 1
"Company E", a Manufacturer and Retailer
High-Value-Added Logistics Solution Helps
Import Foodstuffs and Cosmetics into China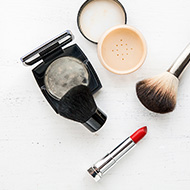 Customer Concerns
Was having difficulty receiving import licenses from CHINA ENTRY-EXIT INSPECTION AND QUARANTINE BUREAU(CIQ).
Lacked staff familiar with laws and regulations related to Chinese imports.
Kamigumi Solutions
Staff familiar with Chinese GB*1 and CCC*2 standards offered advice to customer.
We also offered meticulous support to Japanese management, in Japanese, for detailed supplementary work such as applying for and affixing nutritional labels.
*1 GB: Safety standards in China for industrial products.
*2 CCC: "China Compulsory Certificate." A safety inspection and certification system for wholesale product imports into China.
Importing and selling foodstuffs and cosmetics in China requires not only passing customs, but also applying for licenses from CHINA ENTRY-EXIT INSPECTION AND QUARANTINE BUREAU(CIQ), which carries out tasks such as animal and plant quarantine, commodity inspections, and health and safety inspections. After acquiring licenses, import sellers must also register, apply for and affix Chinese labels. Supplemental tasks such as these are complicated and require an understanding of Chinese labeling for nutrition and other matters. This company was unsure of how to handle foodstuffs and cosmetics in China.
In response, we confirmed Chinese legal and regulatory import and sales requirements for the customer, determined whether items would pass or fail and advised the customer accordingly. We provided services related to creation of customs and commercial inspection applications, creation, application and affixing of nutritional and other labels, and total import and sales process support up to and including delivery to stores.
One of Kamigumi's particular advantages is our large number of local subsidiaries, and the wealth of expertise we have accumulated over many years. This allowed us to provide accurate and detailed information to the customer. As the supervisor in charge was Japanese, the customer also appreciated our meticulous support, in Japanese, regarding affixing labels.
The company has previously been exporting and selling goods such as accessories and clothing in China. By expanding their product lineup in China to foodstuffs and cosmetics, they were able to differentiate themselves from other companies and increase sales.