Investor Relations
TOP>
Message from President
Message from President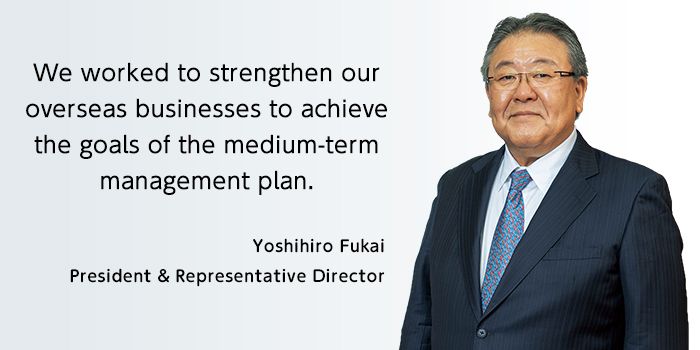 First, on behalf of Kamigumi and all of our Group companies, we would like to express our warmest wishes to our shareholders and investors, and extend our appreciation for their patronage.
Despite the various initiatives we undertook in the first year of the medium-term management plan to strengthen our core businesses, and create a foundation for new growth, our operating results in Kamigumi's 82nd fiscal term (April 1, 2020 to March 31, 2021) ended slightly lower than the previous fiscal term as a result of the impact from the novel coronavirus disease (COVID-19).
We would like to take this opportunity to explain the overview of our performance in this fiscal term and our main initiatives for the next fiscal term and beyond.
The business environment and operating results for Kamigumi's 82nd fiscal term (ended March 31, 2021)

The logistics services industry during this fiscal term continued to face a harsh business environment due to the prolonged effect of COVID-19 despite a trend of recovery in the handling of domestic cargo, and export and import cargo.
The Group strove to strengthen the network and business foundation for the Group's operations by newly establishing a cold-storage warehouse in Kobe City, and worked as an enterprise supporting social infrastructure by providing logistics services that meet customer needs.
However, net sales for this fiscal term decreased 3.8% year on year to ¥268,290 million, under the impact of COVID-19 and the resulting slow activity for the Domestic Distribution Business. In terms of profit, operating profit decreased 0.9% year on year to ¥24,449 million, and recurring profit decreased 0.8% year on year to ¥26,184 million, while profit attributable to owners of parent decreased 2.4% year on year to ¥17,932 million due to the provision for loss on disaster, etc.

Our initiatives for next fiscal term and beyond, and the medium-term management plan

The business environment surrounding the Group continues to face numerous challenges. In addition to the ongoing need for caution regarding the impact of COVID-19, various industries are suffering the effects of a global semiconductor shortage, and there are initiatives for SDGs to undertake. We also are developing management strategies focused on long-term changes.
In such an environment, we are continuing to concentrate on strengthening our core businesses while undertaking other various measures with the aim of completing our medium-term management plan established in May 2020.
Following the application of the "Accounting Standard for Revenue Recognition" etc. from the beginning of the fiscal term ending March 31, 2022, the Group has revised its existing target for net sales in the medium-term management plan from ¥310,000 million to ¥280,000 million owing to changes in the accounting standards for revenue from operations. In line with our strong commitment to shareholder returns, from the fiscal term ending March 31, 2023 to the fiscal term ending March 31, 2025, we plan to pay dividends with a target consolidated payout ratio of 40%.
We ask you to continue supporting and encouraging the Group going forward.