Services
HOME>
Case Study: Just-in-Time Transport in China
CASE Study 2

"Company F", an Information Equipment Manufacturer
Integrated Management of Parts Supply and
Global Exports to Match Production Plans in China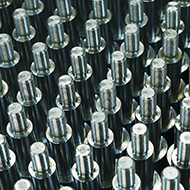 Customer Concerns
Wanted to implement just-in-time parts supply according to factory production schedules.
Wanted to reduce operational burdens by outsourcing duties ranging from parts supply to product exports.
Kamigumi Solutions
We established a warehouse to stock parts from various suppliers, to be supplied to the factory according to production schedules.
We took over defective goods checks and warehouse management, reducing the operational burden for our customer's factory.
We increased operational efficiency by offering integrated support for product exports, including everything from customs to transportation and ship loading.
When transferring their production base from Japan to China, information device manufacturer Company F's greatest concern was constructing a timely system for parts supplies.
In response, we established a warehouse for temporary stocking of parts from various suppliers. Thorough defective inspection and inventory control allowed us to construct a system ensuring timely, high-precision supply of parts according to production plans. The system worked as a direct extension of the company's production line.
While parts supply may sound simple, the company actually receives around 10,000 different parts from over 100 suppliers. Despite the great number of parts being handled, our motto, when it comes to warehouse management for the company, is to "never let a single defective part into the warehouse." We have achieved zero stocktaking errors for the company for several periods running.
The company praised our services, stating that outsourcing parts supply and storage had helped them to increase precision, optimize operations and reduce fixed costs. Our integrated support for product exports, covering everything from customs to transportation and ship loading, also helped reduce operational burdens for the customer and increase satisfaction.