Services
Other Services
In this section, we introduce our apartment rental, alcohol production and other new businesses.
Real Estate
As part of effectively using the land possessed by our company, we engage in apartment construction and solar energy production.
Apartment houses
We establish 'Sunny Place' brand rental apartments in a variety of locations. We contribute to a more fulfilling society by creating pleasant living spaces.
Sunny Place Nishiashiya
(Hyogo Prefecture)
Sunny Place Minatojima
(Hyogo Prefecture)
Sunny Place Shinumeda
(Osaka Prefecture)
Other Facilities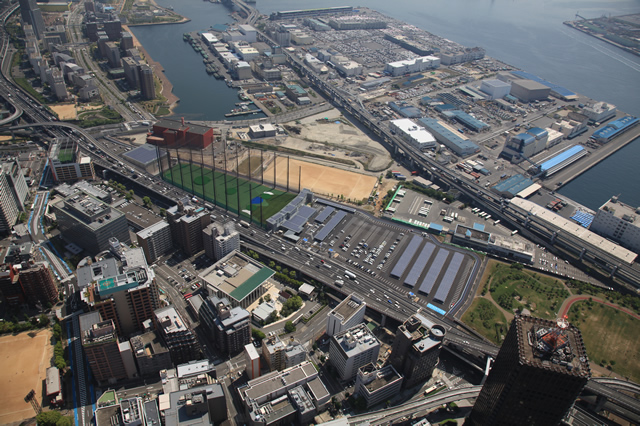 Sunny Place Kobesannomiya
(Hyogo Prefecture)
In addition to rental apartments, we also develop and lease commercial facilities, operate parking areas, and engage in other businesses.
Solar Business
From February 2013, Kamigumi began using its own facilities and land to participate in the megasolar business to reduce the Group's environmental impact through the use of renewable energy. We were the first private-sector company in Kobe to embark on the megasolar business. Going forward, we aim to take part in initiatives capable of generating 30 megawatts.
Kamigumi Logistics Center

Kamigumi Kobe Multipurpose Distribution Center

Kobe Airport Island Logistics Center
Alcoholic Beverage Production
Kamigumi subsidiary Iwagawa Jozo Co., Ltd. has been brewing satsuma (sweet potato) shochu with the essence of the clean air and pure water in the city of Soo in Kagoshima Prefecture since 1870.
Restaurant Business
Our tavern, Oyattosa, is a place where customers can enjoy genuine sweet potato shochu of Iwagawa Jozo Co., Ltd. and the flavors of Kagoshima through dishes prepared by a specialist chef, as well as light Italian dishes.
Agribusiness
Sunny Place Farm Co., Ltd., an agribusiness company established primarily by Kamigumi Group company, Oita Koun Co., Ltd., conducts large-scale cultivation of Shu-Shu brand tomatoes, which have a high sugar content. Going forward, we will work to transform Shu-Shu into a national brand, as well as contributing to local society by seeking to invigorate local agriculture and educate farmers.