Services
Harbor Transport
We carry out terminal operations at major harbors, including independently operated terminals in Tokyo and Kobe, and offer total support including even proxy paperwork.
Terminal Operation
Kamigumi boasts independently operated container terminals in Tokyo and Kobe ports. We offer speedy and powerful logistics for our customers, fully utilizing IT technologies and high efficiency facilities. For details on the Tokyo and Kobe port container terminals, click below.
Terminal Controls
At the operation center, which is the nerve center of the container terminal, we provide integrated tracking of everything from depot ship unloading progress to positioning of containers for shipping/launching and scheduling for taking in of import containers. Skilled operators give precise directions to ensure efficient operation of large-scale cargo equipment such as gantry cranes and transfer cranes.
Terminal Operator
Our company boasts a long history, beginning with cargo operations at Kobe port. Even today, with the majority of cargo handling having been mechanized, Kamigumi continues to bring tradition and expertise to the forefront. As a terminal operator, in charge of handling cargo from depot ships to distribution centers—not just in Tokyo and Kobe but also at major harbors throughout the country—we boast many years of achievements. We also boast exceptional technological skills outside of our terminals as well. As general port and harbor transportation operators we carry out integrated on-board to longshore cargo handling for produce, grain and other depot ships.
Import/Export and Customs Clearance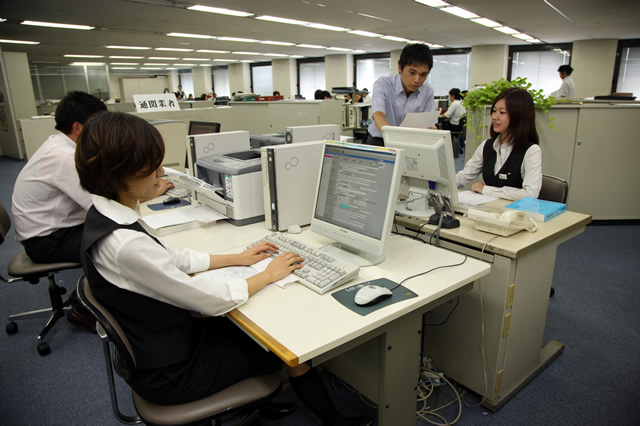 Import/export work places the burden of a variety of complicated procedures on the shippers. It includes booking shipping company, preparing import/export documents arranging a variety of inspections and quarantine for customs clearance and arranging bonded storage. Kamigumi acts as a total import/export agent in these procedures, assisting the smooth progress of its clients' business.