Services
On-Site Factory Services
Kamigumi offers total coverage of shipping and transport operations that take place at clients' factories, warehouses and other sites, from acceptance of raw materials from ships through transport from materials yards to manufacturing processes and product shipment. We help clients achieve production efficiency and ensure safety by analyzing and thoroughly understanding their production processes.
Service Workflow
Raw materials stevedoring work (loading and unloading raw materials onto and from ships using large unloaders and belt conveyors)
Materials control
Environmental operations, such as on-site cleanups
Transportation of raw materials for various manufacturing processes (Transportation work involving the loading of raw materials onto our own rail cars and equipment)
Warehouse cargo loading (Warehouse storage and retrieval, warehouse control)
Secondary product processing (Such as welding, cutting and grinding)
Loading products onto ships and cargo handling (Mother ship loading work and other activity using large-scale cranes or other equipment)
Loading and Unloading of Ship-Borne Raw Materials
—Transport to Site
We deal with our clients' vast raw material demand by efficiently using unloader cranes to unload raw materials from ships. The unloaded raw material is temporarily stored at raw materials yards, after which belt conveyors or large dump trucks, which are centrally controlled by the Control Center, are used to transport the materials to the factory.
Secondary Processing
As production processes, we conduct such processing work as steel plate grinding and cutting. We conduct secondary processing work such as grinding of slabs (lengths of rectangular steel plate) using a remote-control grinder, or cutting using a cutting machine, and send it to the next process.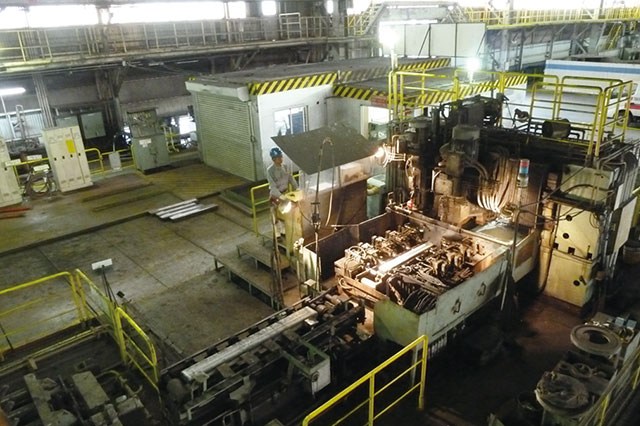 Product Controls / Shipping Work
Final products, such as thick plate and coils, are loaded into a warehouse, where we continue the process through storage control and shipping work, such as the loading of the product on ships. Kamigumi is also able to handle the transport of large and long products, such as steel pipes, by using its own special train cars.
Environmental Response Work
To meet the growing need to deal with environmental issues, we conduct anti-dust measures through the use of sprinkler trucks or on-site cleanups by using trucks with elevated water cannons.