Services
HOME>
Major Cargo Handled
Major Cargo Handled
With a wealth of storage facilities and logistics equipment, Kamigumi handles a wide range of cargo, including containers, machinery, plant equipment, steel products, lumber, produce and grain.
*The items listed here are just an example of cargo handled by Kamigumi. Please don't hesitate to contact us with inquiries about other cargo.
Fresh Produce
(Bananas, Citrus Fruits, Vegetables, etc.)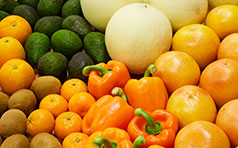 Kamigumi handles more than 95% of the banana imports arriving at the Port of Kobe. We take food safety seriously, and are creating a fully temperature-controlled "cold chain" cargo quality system for imported fresh produce that extends from the unloading of the vessels through storage, processing and shipping.
Bulk Cargo
(Wheat and Other Grains, Fodder Ingredients, etc.)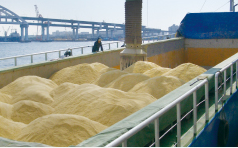 Special equipment is used to unload wheat, soybeans and other grains from the ship, and after being stored in silos it is delivered to customers. We also coordinate intermediate cargo storage and transport in domestic distribution in accordance with the requirements of feed and foodstuff manufacturers.
Frozen Food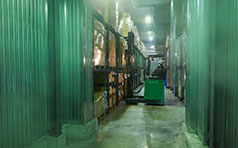 We handle chilled and frozen cargo such as ice cream and frozen food at our warehouses in various locations. Storage temperatures can be maintained from +10°C to -25°C depending on product characteristics, with cargo handling conducted quickly and accurately with thorough quality control.
Automobile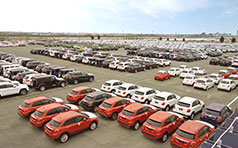 We handle all aspects of automotive logistics, from the overland transport of new and used vehicles for export through customs clearance and ship loading. After transport on our own special automotive transport cars, the vehicles are temporarily stored at a dedicated export vehicle yard and then loaded onto specialized ships for export.
Fresh Flowers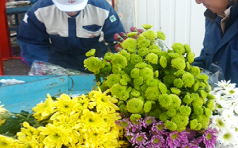 From importation through inspection, sorting and shipment, Kamigumi conducts speedy cargo handling and accurate quality controls, exercising extreme care to ensure the quality of the delicate flowers.