International Multimodal Transport in Indonesia
Using Kamigumi's Jakarta Warehouse
---
In Combination with International Multimodal Transport, Offering a Wide Variety of Services Ranging from Heavy Cargo Transportation to Installation and Maintenance
Kamigumi provides International Multimodal Transport. In addition to international logistics using sea and air routes, we conduct import and export customs clearance and local land transportation.
We offer a broad range of services, from heavy cargo transportation to equipment installation and factory line maintenance. We have built up an extensive track record in these areas, both in Japan and overseas.
---
Warehouse Located on an Industrial Estate East of Jakarta,
Where Many Japanese Manufacturers Gather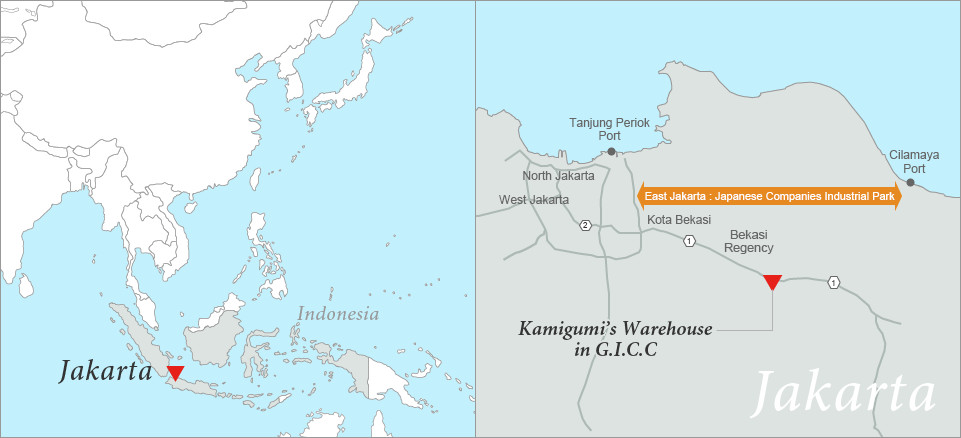 PT. Kamigumi Logistics Indonesia (KGLI) 's warehouse is located in the Greenland International Industrial Center (GIIC), 37km east of Jakarta, 60km away from Soekarno–Hatta International Airport and 50km from Tanjung Priok Port in Bekasi, in the Indonesian province of West Java. The location offers direct access to the Jakarta–Cikampek Toll Road.
In 2015, we began operations at the warehouse, which has floor space of 10,080 m2. Used by numerous automobile manufacturers, the warehouse also provides 3PL services to manufacturers of food products and other consumer goods.
Using a warehouse management system and hand-held terminals, the warehouse is equipped with high-end inventory control functions conforming to Japanese standards. We offer just-in-time delivery coordinated to our customer's production schedules.
| | |
| --- | --- |
| Location | Kawasan Greenland International Industrial Center (GIIC) Block AE No. 05, Kota Deltamas, Desa Nagasari, Kecamatan Serang Baru – Bekasi 17330 |
| Start of Operations | December 14, 2015 |
| Warehouse Structure | Steel construction, single story |
| Site Area | 40,503 m2 |
| Floor Space | 10,080 m2 |
Greeting from the President
Expanding Our Logistics Services to Support Business Activities Accompanying Indonesia's Rapid Development
In 1973, Kamigumi opened a representative office in Jakarta, the Company's first foray overseas. Since that time, we have met customers' needs with a broad range of services combined with comprehensive international logistics. In 2015, we opened our own warehouse in the country, also providing 3PL logistics services that serve a proxy role to manufacturers' own warehouses.
We believe the need for infrastructure transportation, including power generation plants, will continue to grow, as will foodstuff transportation in response to introduction of the FTA and TPP. We will develop high-quality logistics services in response to rapidly growing needs accompanying Indonesia's economic growth.
Masashi Kajikawa
President of PT. Kamigumi Indonesia and
PT. Kamigumi Logistics Indonesia
Please follow the links below to contact us or find information about our locations.